Public Fixed Income
CLOs: A Case for Higher-Quality
CLOs continue to offer compelling opportunities for disciplined investors—especially as robust structures provide protection against some of the lingering macroeconomic headwinds.
Macroeconomic uncertainties continue to persist as corporate defaults start to tick higher and the specter of a recession looms. Against this challenging backdrop, CLOs continue to look attractive given the strong structural protections and the incremental yield on offer—but there is a solid case to be made for staying up in quality.
Fundamentals in Focus
The technical challenges of the last year have more recently given way to increasing concerns about the underlying fundamental credit picture. Despite a relatively solid labor market in the U.S., the global economic environment continues to darken, with record-high inflation and aggressive central bank tightening policies stoking concerns of a recession in the U.S. and U.K. As such, the outlook for the leveraged loan market for the next 12 months looks slightly less favorable, with defaults expected to increase from the relatively benign level of roughly 1% to closer to 3.0%, and perhaps even 4.0%—still well within the range of what CLO structures are built to withstand.1
This backdrop could be challenging for certain BB-rated tranches, particularly some older vintage deals that have taken some losses yet still have larger exposures to tail-risk credits. There is also some concern that loan market weakness will lead to downgrades from single-B rated loans to CCC and potentially trigger cash flow diversions away from equity and even lower mezzanine tranches.
A Strong Case for AAAs
AAA-rated CLOs remain particularly compelling from a risk-adjusted return perspective as the CLO market struggles to find majority or whole-tranche investors to drive spreads tighter. The current coupon on a new issue AAA CLO investment is almost 6.5%.2 Spreads may experience some tightening over the coming weeks and months given the attractive relative value and light new issue calendar to start the year, but we expect the opportunity to persist given the dearth of buyers.
Figure 1: CLO Spreads Remain Wide Relative to Historical Averages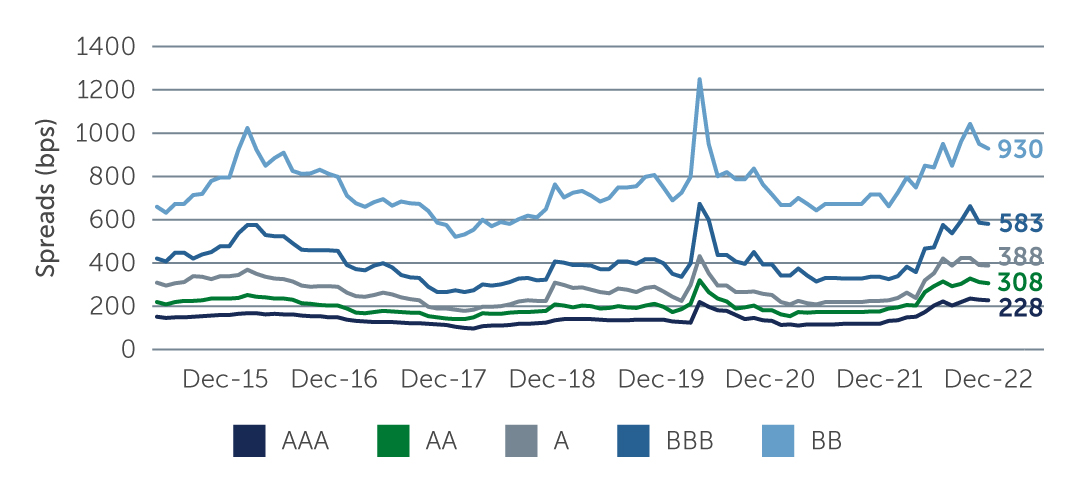 Source: J.P. Morgan. As of December 31, 2022.
There are also compelling opportunities in mezzanine tranches both in the secondary and new issue markets. Secondary CLO tranches continue to trade at discounted prices, however, the timeline for realizing that discount may be extended barring a significant rally in credit. As a result, we favor a blend of new issue tranches with more structural enhancement and higher current coupons and discounted purchases in the secondary. In both markets, we prefer staying "up in quality," particularly for BB-rated tranches, and focusing on those tranches with limited exposure to tail-risk credits. We remain confident that patient investors will be rewarded and continue to believe that careful manager selection will be important to both minimizing risk and capitalizing on the current opportunity set.
Built to Withstand Volatility
It is worth reiterating that CLOs have weathered past periods of stress relatively well. CLO structures are notably robust, partially because they contain a series of features—namely overcollateralization tests and interest diversion tests—that protect investors' capital over the deal's life. As a result, CLOs have defaulted far less frequently than equivalently rated corporate credit and other securitized products. For instance, AAA tranches have never defaulted or experienced a principal impairment, while BBs historically have had a default rate of 1.1%, compared to 7.4% for similarly rated corporates (Figure 2).3
Figure 2: CLO Tranches Have Defaulted Less Frequently Than Similarly Rated Corporate Credit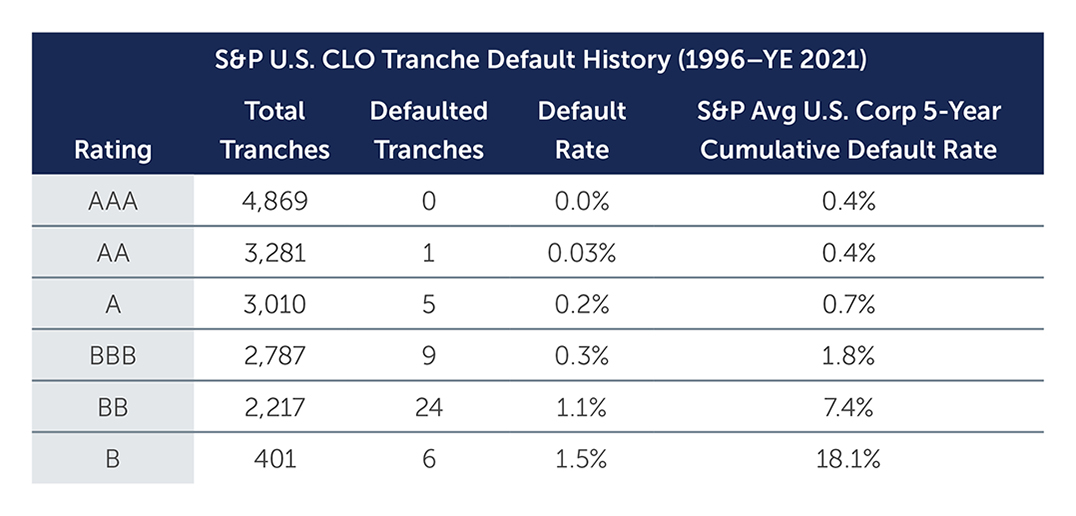 Source: S&P. As of December 31, 2021.
Takeaway
While there are potentially attractive opportunities available, particularly in AAA and high-quality BB CLOs, today's challenging environment is likely to result in more dispersion of performance across managers and deals. Active management and careful manager selection are therefore paramount, as CLO managers are responsible for selecting and monitoring the underlying loan managers. In particular, we look for loan managers that have experience managing through multiple cycles and periods of economic stress, a track record of minimizing credit losses, a deeply resourced team, strong internal research capabilities, and consistency of style—qualities that we believe are essential to both selecting the right opportunities and minimizing potential risks.
1. Source: S&P.
2. Source: Barings. As of December 31, 2022.
3. Source: S&P. As of December 31, 2021.

23-2684800