Public Fixed Income
High Yield: Playing it Down the Middle
High yield looks well-positioned in today's uncertain environment, not only due to current yield levels, but also because of the historically high credit quality of the market.
High yield markets have continued to shine thus far in 2023. In the third quarter, much of the strong performance in bonds and loans came as a result of expectations that the Federal Reserve may be nearing the end of its rate-hiking agenda, and growing optimism that an economic soft landing may be achievable. But the potential for a recession in the months ahead—especially if stickier inflation leads to a prolonged "higher-for-longer" rate environment—coupled with concerns that credit spreads are trading toward the tighter end of historical averages, begs the question: can the strength in the asset class continue? In our view, there is still value to be found in high yield, and if investors can remain patient, potentially attractive total returns await. However, careful credit selection will be as important as ever going forward.
A Higher-Quality Market
Many high yield companies have been shoring up their financial positions over the last few years, leaving them well-prepared, from a fundamental standpoint, to weather a possible downturn. Indeed, corporate leverage remained at healthy levels at the end of the second quarter, at 3.6x in the U.S. and 3.8x in Europe.1 At the same time, interest coverage remained high at 3.2x in the U.S. and 5.5x in Europe.2 This suggests that most high yield issuers are in a position to continue servicing their debt, even through a period of economic weakness. That said, if interest rates do remain higher for longer and begin to more negatively impact economic growth and consumption levels, we will likely see further deterioration in company margins, especially among issuers in more cyclical sectors.
Adding to the resiliency of the high yield market is its high credit quality, with BBs currently comprising over half the market and CCC and below issuers accounting for 10% (Figure 1). In addition, many high yield companies took advantage of the low rates in 2020 and 2021 to issue new debt and lock in low borrowing costs. The debt proceeds were predominantly used for refinancing purposes, which essentially pushed out the debt maturity profile of the market. Given the combination of a higher credit quality profile, limited near-term maturities, ample cash cushions and financial discipline, we believe default rates—although inching up due to some idiosyncratic cases—are likely to remain around 3%.3 Even if a recession arrives in the coming months, a sharp increase in defaults looks unlikely.
Figure 1: A Higher-Quality Market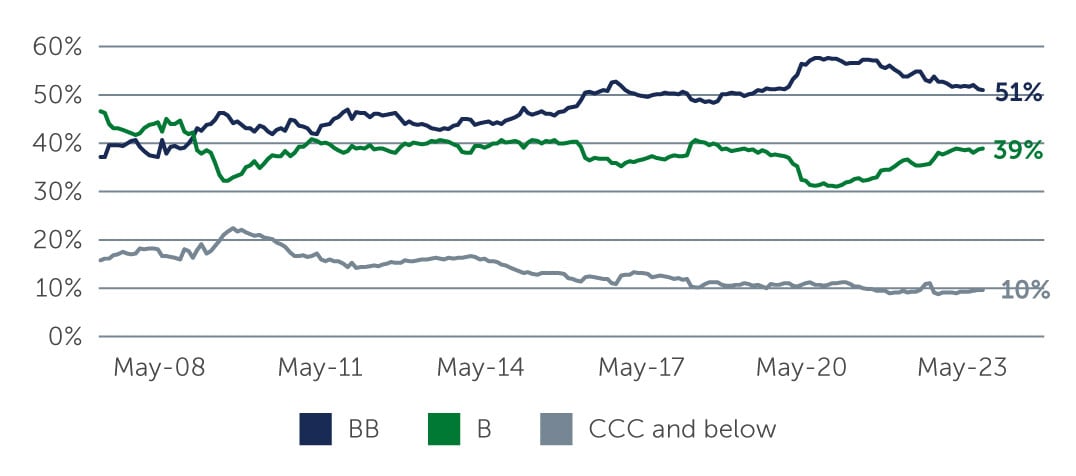 Source: Bank of America. As of September 30, 2023.
Not the Time to Take Excessive Risk
That many high yield issuers are starting from a position of strength is certainly a positive given the several unknowns shaping today's investment landscape. However, high yield, unlike equities, does not require strong economic growth to perform well. Rather, what matters more in high yield is an issuer's ability to continue to meet the interest payments on its outstanding debt obligations. And issuers will prioritize doing this over other expenditures, particularly those that may be discretionary or optional in nature, such as share buybacks or M&A activity.
Even so, now is arguably not the time to dip into lower-quality credits to achieve a potentially higher return. This is particularly true given that the higher-rated parts of the high yield market continue to offer a compelling risk-reward picture. BB high yield bonds, for instance, are currently yielding around 7.5%, while yields on the rest of the high yield market are above 9%.4 While yields are trending higher—offering a cushion against potential downside scenarios—prices in some cases are trading at discounts of around 10-15%.5 From a historical perspective, yields and prices near current levels are rare and have historically led to strong double-digit returns over the following 12 months (Figure 2). These reasons are not only providing a case for high yield investing on an absolute basis, but also in comparison to equities. In particular, a number of investors are shifting away from higher risk assets such as equities, and moving toward the attractive yields and more defensive characteristics on offer in the high yield market.
Figure 2: Valuations at Current Levels Have Historically Led to Double-Digit 12-Month Forward Returns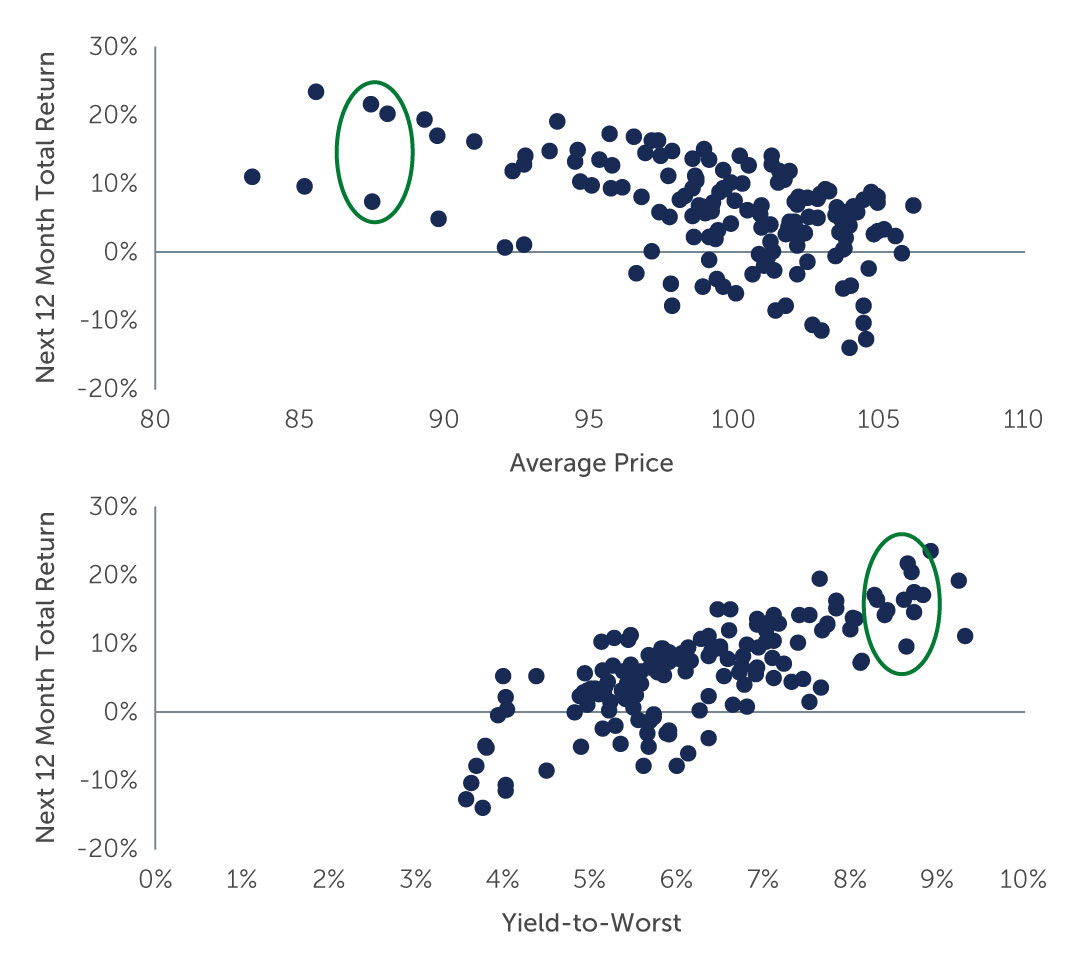 Source: Barings and ICE BofA. As of September 30, 2023. Global High Yield bond market represented by the ICE BofA Non-Financial Developed Market High Yield Constrained Index (USD Hedged) (HNDC). Total return next 12 months represents the return for the index for the 12 months following the price as of each date. Time period shown is the start of 2010 to the end of 2022 using month-end values. For illustrative purposes only. This analysis is intended to demonstrate only the specific elements discussed. This analysis does not represent all of the elements and variables that could be factored into the potential outcome.
Looking across the market, we also see value in high yield loans today. Coupons on these floating-rate instruments continue to look very attractive, and yields are currently hovering around 10%.6 On a risk-adjusted basis, considering loans have historically exhibited relatively low volatility and are secured by a company's assets, we believe the asset class looks very compelling.
Cautious Optimism
There is certainly potential going forward for the economy to broadly adjust to what may be the "new normal" of higher interest rates. But a cautious approach will nonetheless be crucial, particularly given the potential for a more challenging scenario to unfold. In particular, if the widely expected soft landing turns out to be harder, the sudden onset of a downturn—after the economy has skirted one for so long—could trigger negative overreactions in the market. There is also the potential for inflation to reaccelerate and more meaningfully impact profit margins, which could lead to a stagflationary scenario. As a result, while we continue to believe there is value to be had in high yield, particularly given the higher credit quality of the market, a credit-intensive approach to investing will be critical in the months ahead.
1. Source: Bloomberg. As of June 30, 2023.
2. Source: Bloomberg. As of June 30, 2023.
3. Source: J.P. Morgan. As of September 30, 2023.
4. Source: Bloomberg. As of September 30, 2023.
5. Source: J.P. Morgan, Bank of America. As of June 30, 2023.
6. Source: Bloomberg, Credit Suisse. As of September 30, 2023.