Social Impact
Young Black Leadership Alliance
In the first of the series looking at the impact of Barings' partnerships with local charities, Elizabeth Cooper, associate director, Social Impact, speaks with John Martin, CEO and co-founder of the Young Black Leadership Alliance, a non-profit focused on developing young Black leaders.
Elizabeth Cooper: John, for those that don't know, can you tell us about YBLA?
John Martin: In a nutshell, YBLA's purpose is to develop young Black men and women into the leaders who positively impact their community now and in the future. We achieve our mission through leadership development, college and career readiness programming, and local and international transformational service projects.
I know that Barings' social impact program focuses on supporting and empowering local communities. We share that ethos at YBLA: we're concerned with directing change and restructuring the world: in fact, of those students who have come through our program, 98% have attended college and 96% have graduated. They have also impacted over 20,000 people worldwide through their service projects. Locally, they have put in over 800 hours mentoring elementary school students.
EC: Why did you set YBLA up?
JM: Many people say that young people are our future leaders: we believe we can't afford to wait for the future and we must develop young leaders today. But current stats are stacked against young Black students in particular: the college graduation rate for Black men in the United States currently stands at 40%—that's the lowest across any demographic. Under a quarter of Black students meet the college readiness math benchmark, again the lowest across all demographics.
I wanted to make sure I was having the biggest impact possible, for both Black students but also our wider communities. I've always been concerned with helping young Black people to become not just successful but also significant. Looking at it from a business perspective, the most important asset we have is human capital, so if we develop leaders early on, they will be a lifelong asset to their community.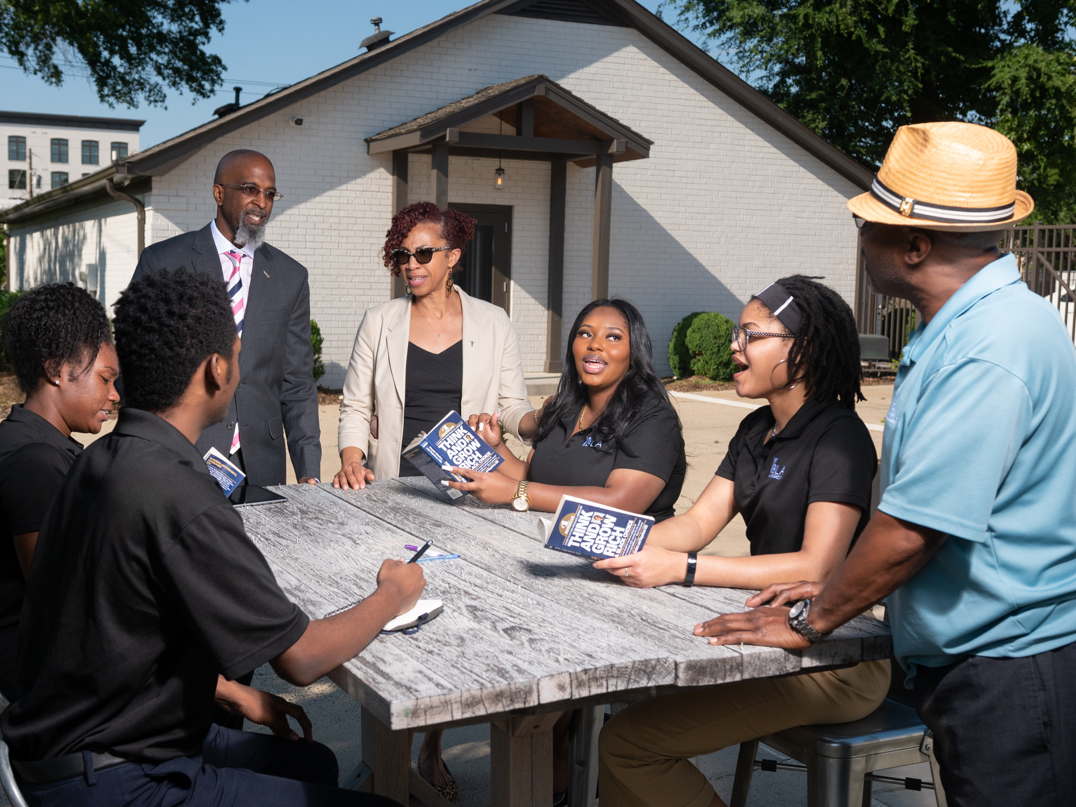 John Martin, third from left, is the CEO and co-founder of YBLA
EC: Could you tell me about the partnership with Barings? How did it all begin?
JM: We were introduced to Barings in 2019 when we were invited to visit the offices for a tour. We brought 15, maybe 20 different students to the Barings Charlotte office, and employees hosted a resume workshop and a networking social for the students.
A student who lived in Charlotte attended and commented that it was the first time they'd ever been in a tall building, which was a really striking moment for us: these amazing, young people live in the shadows of these skyscrapers but had never had the opportunity to go inside. That really brought it home, the impact we could have working with Barings, and the horizons we could broaden.
EC: How did it then develop?
JM: In 2020, Barings sponsored our students to go to Davidson College for a tour, then hosted them at an on-campus basketball game.
Barings and the Barings Black Alliance Employee Resource Group then offered to fund seven scholarships for underrepresented and low-income students to participate in our Ambassador Program, a course which includes leadership development, college and career workshops and local and international service. We also expand their social capital by connecting them with business professionals like Barings employees.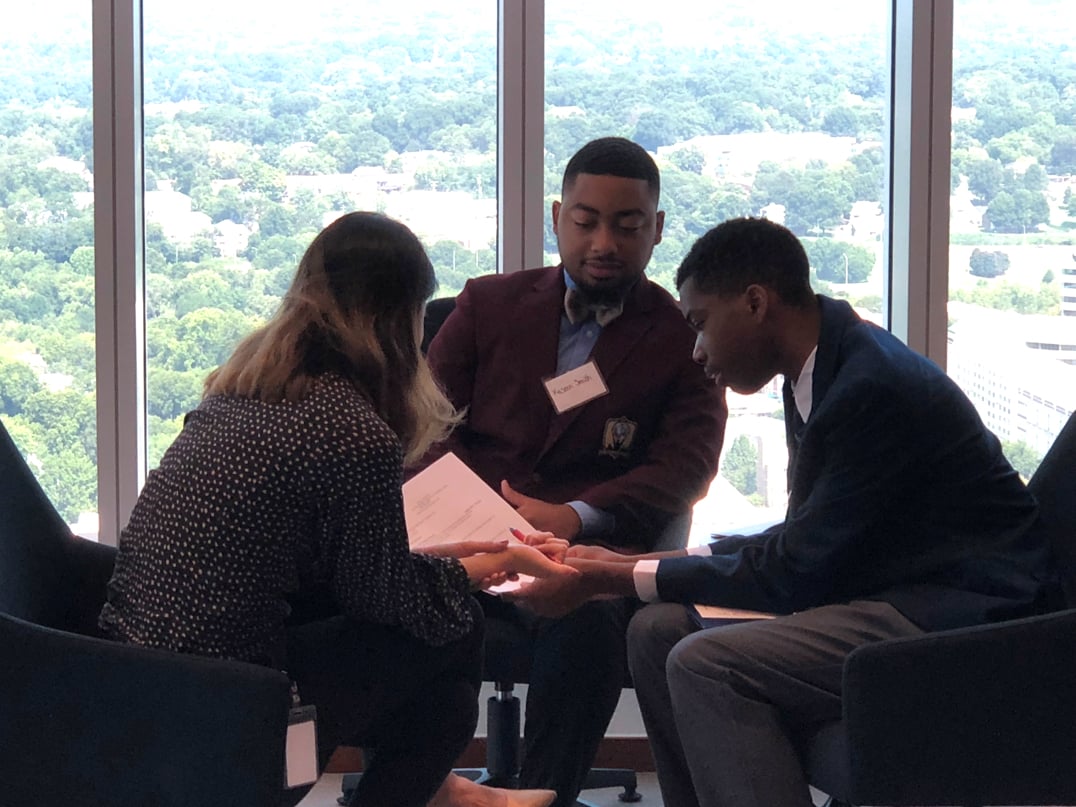 Barings teammates have worked with YBLA students in the Barings office, giving advice on careers in asset management
Diversity of thought, background and opinion are crucial to business success. So, while Barings has been involved from a financial standpoint, there's also been an ongoing program of engagement where students have had the opportunity to meet with Barings teammates and receive advice and insights about pursuing careers in asset management. Having these conversations at high school age, before students have chosen their university majors, allows for them to consider different career paths, opening up the potential for a more diverse talent pool to go into industry.
"Being part of this program has allowed me to tap into things I didn't know I was capable of…it feels nice to know you have people in your corner."
Trinity
YBLA Ambassador, Barings-sponsored student
EC: Workforce development is one of the Barings Social Impact focus areas. Why does empowering young Black people strike such a chord with you?
JM: Education and employment are keys to creating successful outcomes in the lives of young Black men and women. I've already mentioned some of those stats we're dealing with regarding Black students: we're concerned with laying down seeds to make sure we impact not just our students, but their future kids and grandkids too.
Ultimately, it's about being a cycle breaker and creating a legacy, creating something truly impactful, something I know that the Barings Social Impact program is concerned with too. We're sold on the idea that if we can develop leaders, they could impact other people, and that becomes a sustainable model.
EC: What's next for the partnership?
JM: The next phase of our partnership with Barings is the Leadership Inside-Out program, which launched this month, of which Barings is the key sponsor. We're still going to be working with high-performing students, they still need to have a 3.0 GPA average. Crucially though, we're taking this program inside Title One schools, starting in West Charlotte, where 98% of students are on free or reduced cost school lunches. We're bringing the resources to students who don't have the confidence or social capital to travel to take part, eliminating the barriers to them achieving their potential. We also take the students to tour college campuses and the Barings offices—to spark an idea of what they see is possible for themselves. One of the strongest factors of upwards mobility is about being around a diverse set of people, so this program offers that opportunity too.
EC: What's been the highlight of the partnership with Barings?
JM: Seeing the depth of commitment from Barings has been very exciting, particularly with John Ockerbloom, Barings Managing Director, Real Estate Equity joining the YBLA board.
Ultimately, being able to change young people's lives through this partnership with Barings, eliminating barriers to achieving their potential, is the biggest success story. Allowing these young people to see the possibilities and broaden their horizons is where the true change lies. Let's keep working together on making that a reality.


"The most important thing I've learned on this program is to not be afraid to lead—I now take the opportunities to lead the best way I can."
Trinity
YBLA Ambassador, Barings-sponsored student