Real Estate
European Real Estate: The Build-to-Rent Opportunity
Given the sizeable opportunity set, potential for superior long-term risk-adjusted returns, strong diversification benefits and inflation protection, there is a compelling opportunity in European residential real estate.
A Large and Diverse Opportunity Set
The residential property market offers enormous scope for both property investors and multi-asset allocators to widen their investment universe. The global residential property market has a total estimated value of $258.5 trillion, which dwarfs its' commercial sibling ($68 trillion) and more than doubles the potential investment capacity of the global equity ($105.8 trillion) and global bond ($123.5 trillion) markets.1 With a global glut of savings outpacing the supply of institutional grade investments, residential property is an opportunity set that is simply too big for institutions to ignore.
Figure 1: Residential Property Market Dwarfs the Global Equity and Bond Markets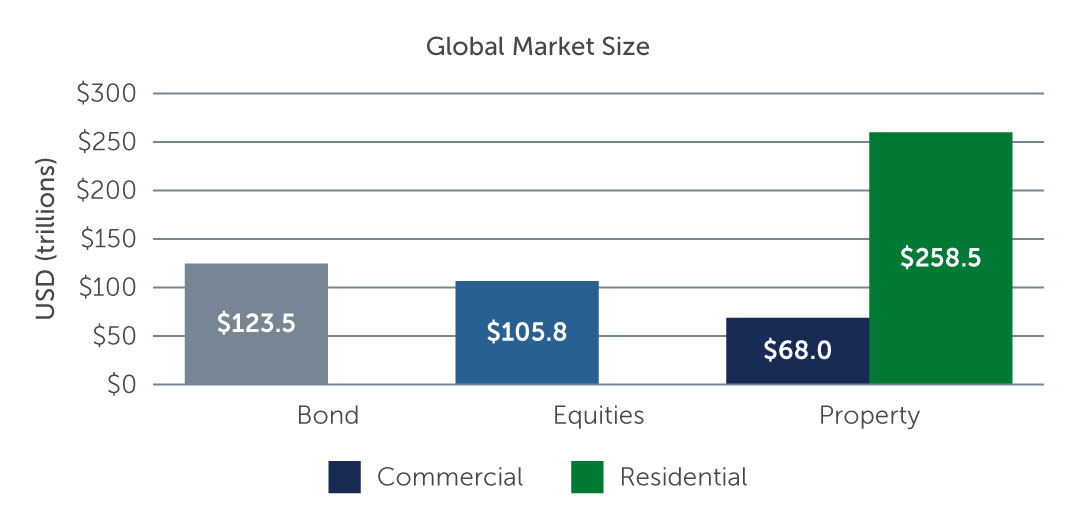 Sources: SIFMA. As of July 2021. Savills. As of December 2021.
Investment interest in European residential property, in particular, has surged of late, with transaction volumes trebling to nearly 30% of total deal flow over the past decade.2 This rise has been driven not only by a desire to plug the gap left by retail property's e-commerce-driven demise, but also by the compelling investment rationale. Given the residential sector accounted for over 40% of transactions in 2021 in the U.S., we anticipate that this sector will become the dominant form of property investment in Europe within the next five years—or perhaps even sooner.
Figure 2: An Existing Need to Plug the Retail Investment Gap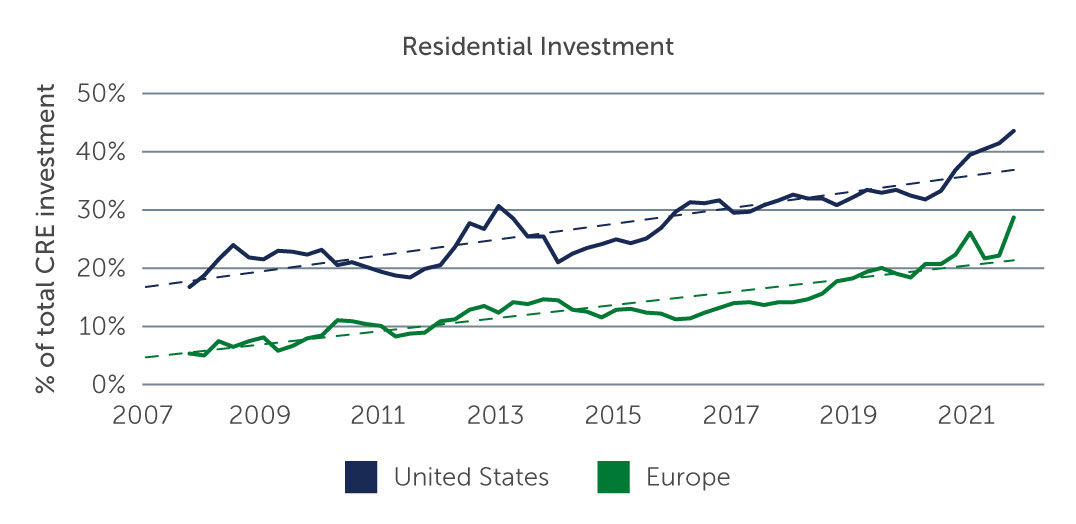 Source: RCA. As of February 2022.
The sheer variation within the residential opportunity set is an added attraction, and includes offerings such as:
Holding existing private rented sector (PRS) stock
Creating new stock via build-to-rent (BTR) or build-to-sell (BTS) in multifamily apartments/or single family dwellings
Land banking
Access to niche sectors (e.g. co-living and micro-apartments)
Targeting specific demographics via senior living and purpose built student accommodation (PBSA)
The rise of impact investing and a greater focus on ESG have also boosted the emphasis on "social" factors, which has increased the volume of capital targeting social rented and affordable housing markets. Indeed, the sector's diversity raises the possibility that an investor could build a highly diversified investment portfolio that solely comprises residential assets.
1. Sources: Savills; SIFMA. Data for equities and bonds as of July 2021, and data for real estate as of December 2021.
2. Source: RCA. As of February 2022.