Public Equities
Hong Kong China Equities: Finding Value Amid the Reopening
An economic reopening, a recovery in fundamentals, and favorable policy support are creating a compelling, long-term case for Chinese equities.
In 2023, many of the headwinds that have been dragging the Chinese equity market down over the last two years may turn into tailwinds. Indeed, Chinese equities have faced a number of challenges, from the self-induced, risk-focused regulatory tightening on certain sectors, to COVID outbreaks and resultant lockdowns hindering domestic activities, to weakness across the property markets.
But with the reopening of the Chinese economy at the end of 2022, we believe the bear market has ended and the outlook for Chinese equities looks positive. In particular, China's government has committed to focusing on growth—suggesting that a number of supportive policies are likely to follow. Subsequently, the International Monetary Fund has forecast that China's economic growth could reach 5.2% in 2023, outpacing that of developed markets and making China one of the fastest growing major economies.1
Economic Reopening to Support Consumption
China's zero-COVID policy was a key factor in stalling the country's economic engine in 2022, with lockdowns disrupting domestic manufacturing and consumption activities. However, toward the end of the year, the government concluded that the lethality of COVID variants had fallen to acceptable levels and began efforts to rapidly unwind restrictions.
By January 2023, high-frequency mobility data showed that both intra-city and intercity traffic are rapidly recovering. Subway ridership in major cities has improved by around 50% from the trough, to approximately 30% below pre-pandemic levels, while national highway traffic mobility has exceeded the same period.2 Recovery of air traffic has been staggered, with domestic flights returning to 96% by the end of January, while cross-regional flights recovered to 13% of the pre-pandemic level, led by flights to Greater China destinations, Southeast Asia and Europe.3 This favorable backdrop, combined with the Chinese New Year holidays, has led to a rebound in domestic consumption. Over the Chinese New Year holidays, domestic tourism revenue grew by 30% year-over-year, reaching 73% of the 2019 level, while catering revenues grew by 16.4% year-over-year, or 73% of the pre-pandemic level.4
Figure 1: China Sees Recovery in Air Traffic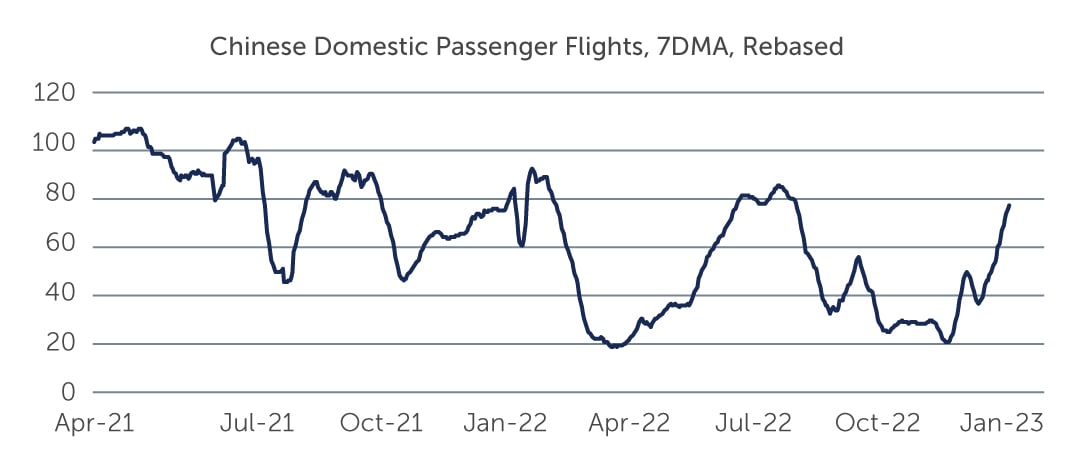 Source: J.P. Morgan Research. As of January 2023.
1. Source: International Monetary Fund; World Economic Outlook. As of January 2023.
2. Source: J.P. Morgan Research. As of January 2023.
3. Source: J.P. Morgan Research. As of January 2023.
4. Source: CLSA Research. As of January 2023.