Public Equities
The Crucial Role of Resources in the Great Energy Transition Debate
It is becoming increasingly clear that to improve the chances of achieving Net Zero by 2050, natural resources companies are a key part of the solution—not the problem.
Rethinking the Energy Transition


"Climate change is the defining issue of our time, and we are at a defining moment."
United Nations


For an organization renowned for its diplomatic language, this is a strong statement. However, underlying this statement and a leading takeaway from the COP27 conference held in Sharm-El-Sheikh, Egypt in November 2022, is that the 1.5°C target, as set by the Paris Agreement, would be increasingly challenging to meet. In fact, despite the various Net Zero commitments from countries around the world, we are on a trajectory to see global temperatures increase by 1.8-2.7°C by 2050 (Figure 1). This has led us to rethink the energy transition, factoring in our improved understanding of the constraints facing the raw materials that are required to build the necessary infrastructure, as well as the growing necessity to consider in detail the world's need for energy resilience.
Figure 1: Global Temperatures Forecast to Rise by More Than 1.5°C by 2050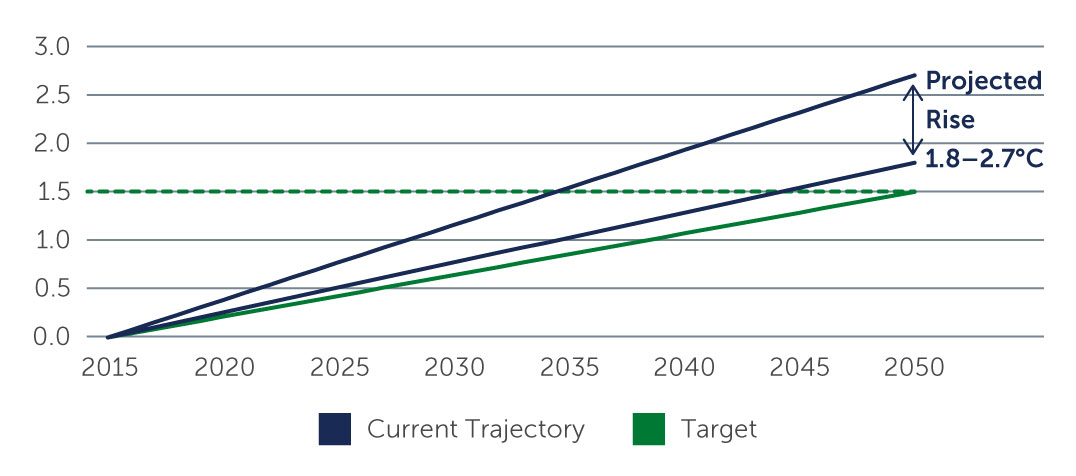 Source: Climate Action Tracker. As of November 2022.
It is well understood that to achieve Net Zero emissions by 2050 and limit temperature rises globally by no more than 1.5°C above pre-industrial levels, we need to transition the energy matrix, both static and mobile, from one that is fossil fuel-based to one that relies heavily on renewable energy. This will require substantial investments in solar and wind generation capacity in order to carry the load of a clean energy future. Investments of this scale will require mining and processing significantly higher amounts of raw materials—namely copper, aluminum, nickel, platinum group metals, and rare earths, often referred to as 'green metals'—than we have in the last 30 years. What is less well understood is the impact that this transition will have on the materials used in everyday construction such as steel and cement. Also pressing, and arguably more contentious, is the amount of energy that will be required to drive the transition. Based on our projections, and perhaps somewhat counterintuitively, natural gas and oil will need to remain a critical component.