Public Fixed Income
High Yield: Value on Offer, But Stormy Seas Ahead
While there are signs that volatility will likely continue in high yield through the coming months, this environment, ultimately, may prove to be a significant opportunity for value creation.

Volatility has returned to high yield, as it has for most risk asset classes. European bonds and loans have been particularly hard-hit, given the acute economic stress facing the region as a result of the growing energy crisis and uncertain outcome of the Russia-Ukraine war. With no clear indications that inflation is ebbing, and with ongoing inflationary pressures on corporate margins, capital markets continue to rotate defensively, exhibiting signs that volatility will continue through the coming months.
Fundamentals Provide a Buffer for Challenging Technicals
While companies are navigating this challenging period from a position of fundamental strength, higher interest rates have begun to stress rate-sensitive areas of the economy—the effects of which could start to feed through to high yield in the near-term. But again, the starting point matters, and many companies are in a stronger financial position today than they would have been pre-COVID, which should help them weather the storm ahead. For instance, U.S. high yield corporate leverage reached 4.2x in the second quarter, which is the lowest level since the fourth quarter of 2019.1 Although margins have showed signs of deterioration on higher energy and labor costs, companies' revenues, cash flows and EBITDA (earnings before interest, taxes, depreciation and amortization)—which have returned to or surpassed 2019 levels—continue to help cushion balance sheets.
Also on the positive side, earnings estimates for the remainder of this year and into 2023 have been more durable than some market participants were expecting, even in the face of negative sentiment. While there will likely be some contraction in earnings going forward, we do not expect to see a commiserate spike in defaults given the solid fundamental backdrop and higher-quality of the market today relative to a decade ago (Figure 1).
Figure 1: Global High Yield Bonds: Credit Quality Evolution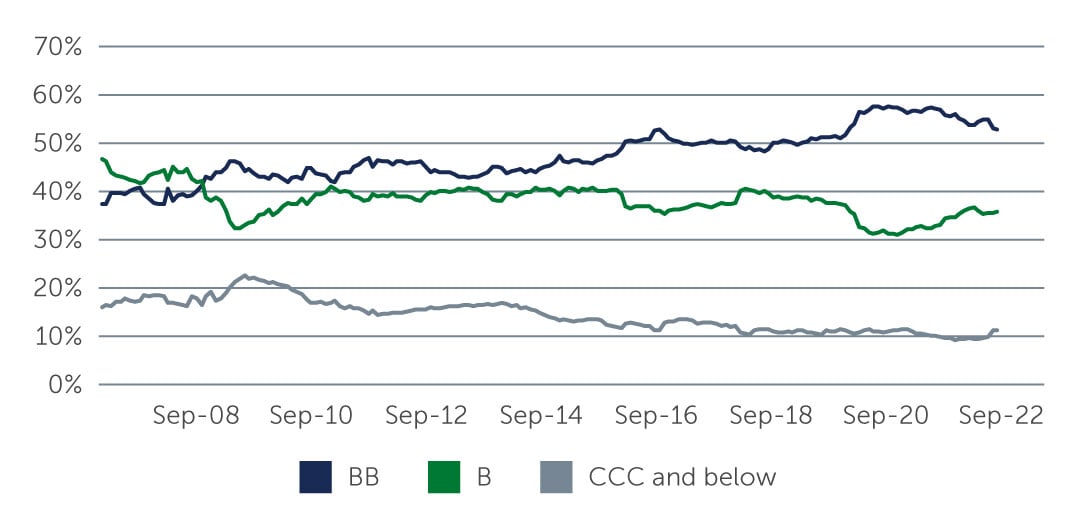 Source: Bank of America. As of September 30, 2022.
Not The Time to Take Excessive Risk
While fundamentals may deteriorate before the economic headwinds subside, we believe that the higher yields and pull-to-par scenarios across the high yield market today present compelling total return opportunities for investors willing to ride out short-term volatility.
Given the increased volatility and potential for recession, we continue to hold a slight bias for higher-rated credits, particularly in the U.S. market, as well as issues with manageable durations. But we believe there is value to be found across the rating spectrum with selections guided by detailed, bottom-up analysis. Finding attractive total return scenarios in this environment also does not require excess risk-taking. For instance, high-quality BB bonds in the U.S. and Europe have traded at a discount to par, at roughly 86 and 84, respectively, with an average duration of about four years—and are currently yielding upward of 7%.2 In our view, this combination of higher yields with materially discounted bond prices is an ideal environment in which to drive attractive total returns. Indeed, over the last 14 years, when the price for the global high yield bond market dropped below 86, the total return over the following 12 months averaged 18.9% (Figure 2).
Figure 2: Global High Yield Bonds: Historical Performance When Price Drops Below 86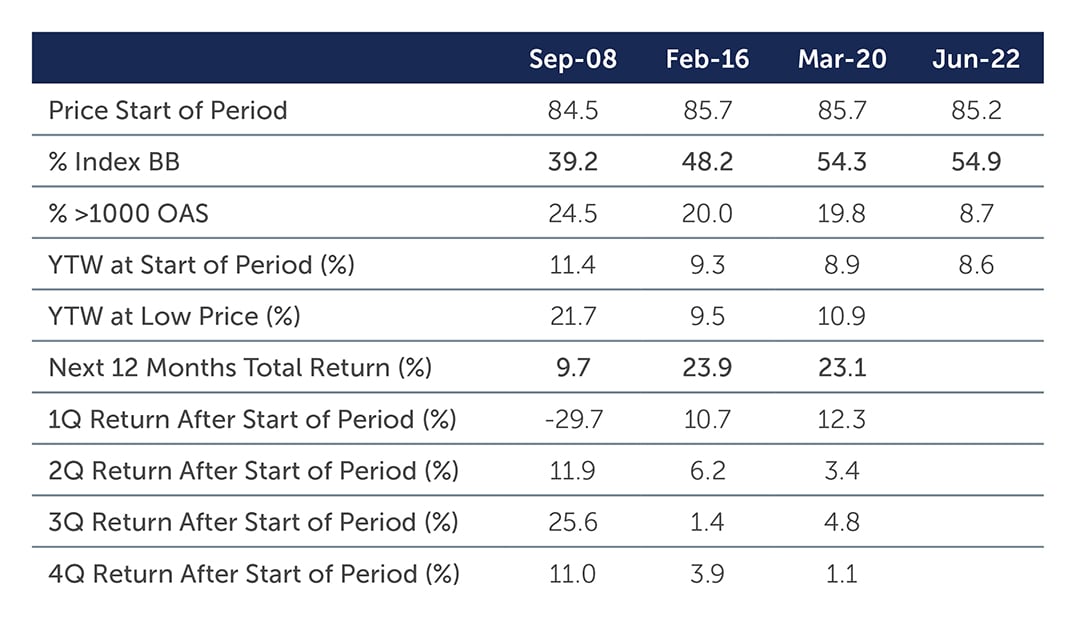 For illustrative purposes only. PAST PERFORMANCE IS NOT NECESSARILY INDICATIVE OF FUTURE RESULTS
Sources: Barings and Bank of America. As of August 31, 2022. Total return shown is the return for the twelve month period following the first day that the price reaches 85.
*Note: Percentage BB and Option Adjusted Spread (OAS) figures based on market value of the index.
Looking Ahead
The challenges facing markets today are unlikely to fade anytime soon. Things may very well get worse before getting better and investors will undoubtedly be forced to grapple not only with volatile markets, but also with continued negative headlines reflecting the reality of this challenging time. That said, opportunities are emerging, and given the extent that market prices have fallen, investors do not need to take on extreme levels of risk to earn potentially attractive returns. In higher-rated parts of the high yield bond and loan universe, the long-term risk-reward picture has become particularly compelling—but investors must stay vigilant.
It is also notable that mild recessions have not necessarily been bad environments for credit markets in the past. The majority of high yield issuers have the flexibility to continue to service their debt through a period of economic weakness, especially if that period proves to be somewhat mild and temporary. That said, if the past is any indication, a steadfast focus on fundamentals and bottom-up, credit-by-credit analysis can help identify issuers with the potential to thrive beyond today's events—and this environment, ultimately, may prove to be a significant opportunity for value creation.
1. Source: J.P. Morgan. As of June 30, 2022.
2. Source: ICE Bank of America. As of September 30, 2022.


22-2476193