Public Equities
Equities: Not All Growth is Created Equal
The indiscriminate sell-off in growth companies is creating potential opportunities in 'true' growth stocks, which are becoming increasingly undervalued amid the broader market decline.
2022 has seen significant economic and financial developments alongside dramatic geopolitical events, but for the equity investor, the greatest shock may have been the sharp underperformance of growth companies.
How Much Growth is Good?
Since the post-Global Financial Crisis equity rally began 13 years ago, there has been an almost continuous outperformance of growth companies (Figure 1). As this outperformance unfolded over time, a simplistic 'growth is good' assumption took hold, leading to ever-rising valuations of growth companies, which, in many cases, were undeserved. Growth is an often misused term. It measures an output but says very little about the inputs required to generate it. For instance, is 10% growth good, or is 20% better? The level of growth, by itself, is not enough information to answer that question.
Figure 1: After 10+ Years of Strong Performance, Growth Companies Have Declined Steeply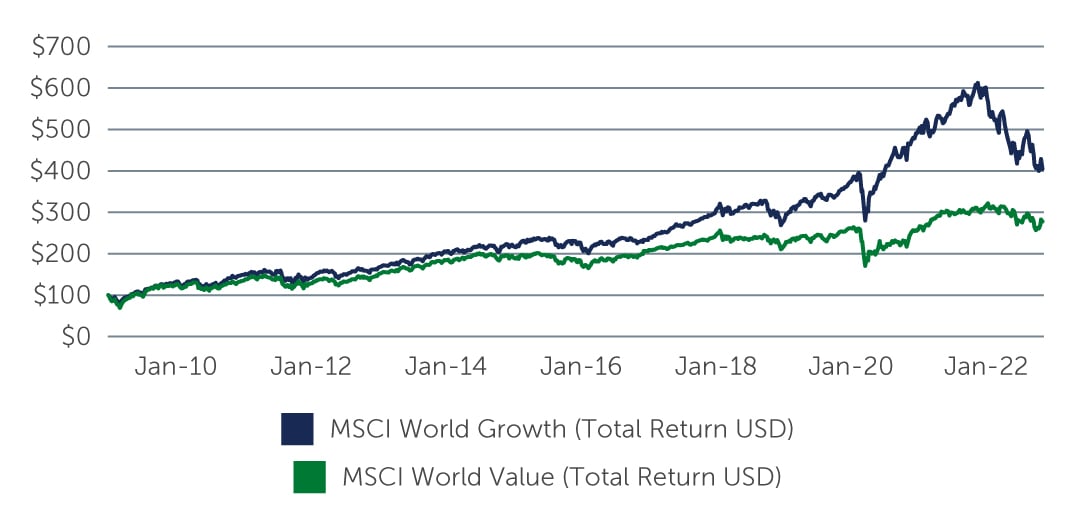 Source: Bloomberg. As of November 4, 2022.