Real Estate
2023 Outlook: Global Real Estate
In this roundtable discussion, our experts across real estate debt and equity discuss how they are navigating today's challenges and weigh in on where investors can turn to find attractive returns.
Greg Eudicone: From high inflation and the U.S. Federal Reserve's rate agenda, to the war in Ukraine and resultant energy crisis in Europe, there are plenty of challenges facing real estate markets today. Are there any "hot" markets or property types that are giving you pause in the current environment?
Valeria Falcone: What makes today's environment complicated is that we are not facing a real estate crisis, we are facing an inflationary crisis. While the external shocks you mentioned have completely disrupted the economy, most real estate sectors continue to hold up well from a fundamental perspective. That said, one "hot" market we are keeping a close eye on is logistics. With declining purchasing power affecting sales and distribution, it's possible the sector will lose some momentum in the short term, and perhaps experience some fundamental weakening.
However, while the short-term situation looks potentially challenging, the sector continues to look attractive from a medium to long-term standpoint, for a few reasons. For one, in Europe in particular, we expect to see growing demand from manufacturing companies as they expand their near-shoring business strategies. Additionally, as online sales continue to grow, the need will arise for new, modern logistics spaces to fulfill the resultant demand (Figure 1). The wide variation of Internet penetration rates between European countries also suggests there is considerable expansion potential in the sector—particularly given the more limited supply as a result of muted post-financial crisis development.
Figure 1: Structural Undersupply of Modern Space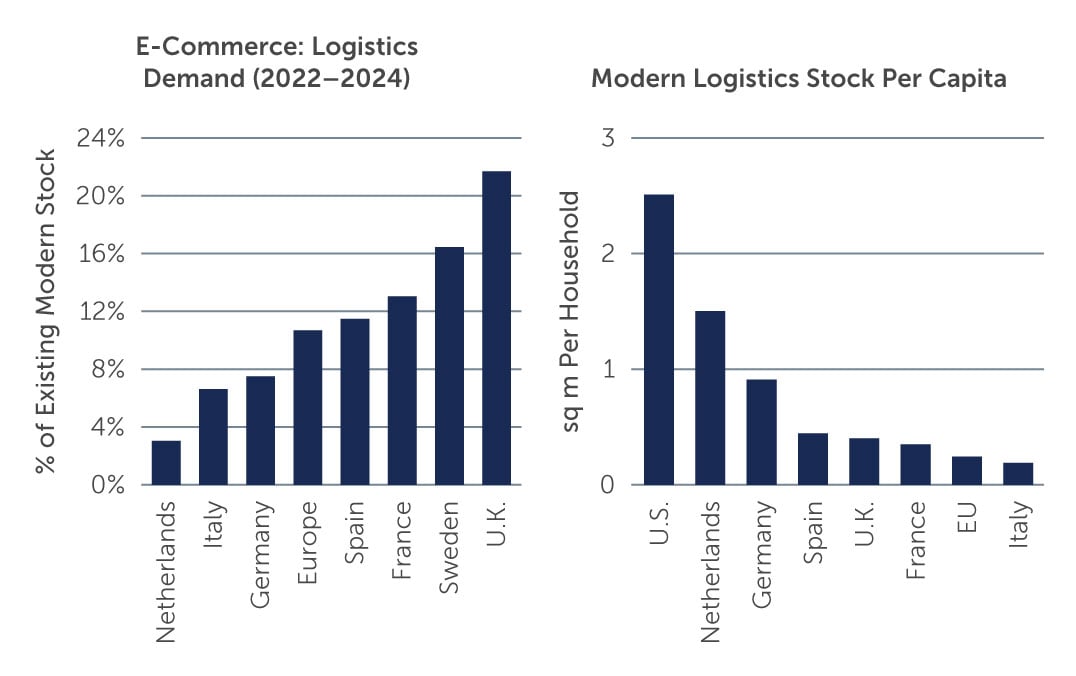 Sources: CBRE, Oxford Economics, Euromonitor, Barings. As of January 2022. (Demand); Prologis. As of 2021 (Stock)