Public Fixed Income
CLOs: A Safe Haven Amid Rising Rates?
CLOs offer a number of potential benefits in a rising rate environment, with BB and equity tranches offering particular value.
Risks for fixed income markets significantly increased in the fourth quarter of 2021—from Omicron and its potential impact on global demand to the U.S. Federal Reserve's more hawkish turn and acknowledgement that inflation may be more than "transitory." While the collateralized loan obligation (CLO) market experienced bouts of volatility as a result, CLOs remain on solid footing overall. During the quarter, AAA, AA and single-A tranches returned 0.25%, 0.21%, and 0.29%, respectively. BBB, BB and single-B tranches also delivered positive returns, at 0.26%, 0.55% and 0.55%.1
Heavy Supply…
Supply remained elevated through much of the quarter, particularly as many issuers tried to get ahead of the transition from LIBOR to SOFR in early January. Activity began to wane in the first weeks of December, however, given that deals priced to LIBOR had to close by year-end. We expect supply to pick up again in the coming weeks, although the market has been a bit slower to restart as market participants wait for some of the specifics of the transition to be worked out, such as what the difference in pricing will be between LIBOR and SOFR-based liabilities.
In total, CLO issuance reached $421.1 billion for the year, with roughly $171.2 billion of that coming from refinancings and resets.2 This year, we expect supply to remain high relative to historical averages, but perhaps not to the highs we saw in 2021. While new issuance could come close to 2021 levels, the large proportion of resets and refinancings we saw—as a wave of 2019 and 2020 deals reached the end of their non-call periods—is essentially off the table for 2022.
Figure 1: CLO Supply Remained Elevated in the Fourth Quarter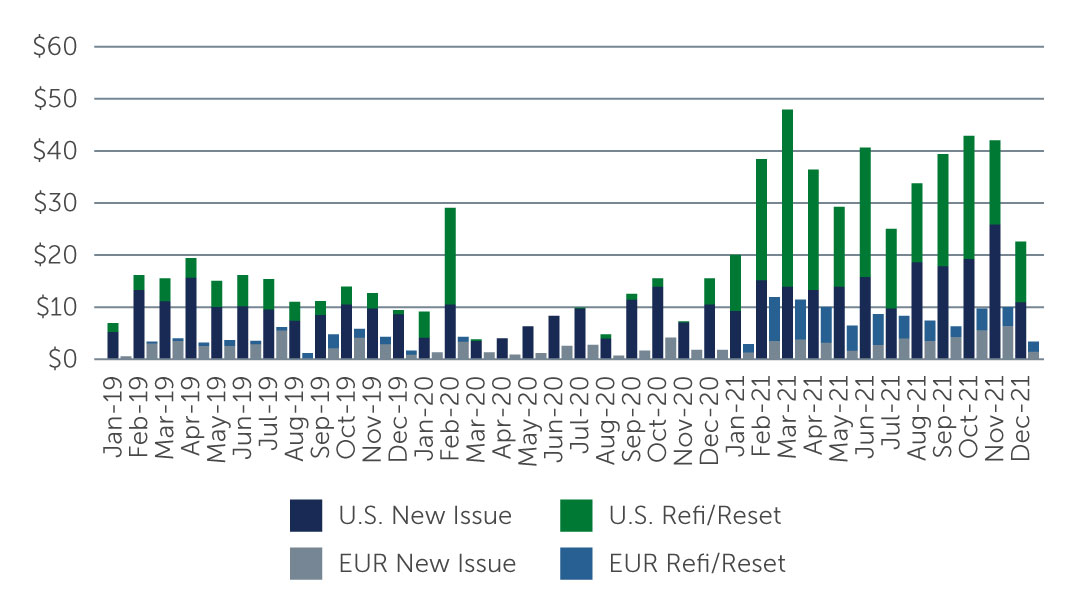 Source: J.P. Morgan. As of December 31, 2021.
… Met With Strong Demand from a Growing Buyer Base
Demand across the capital structure has been strong, enabling the heavy supply to be well-absorbed by the market. At the top of the capital structure, institutional investors including banks, insurance companies and international buyers continued to account for a large portion of demand. We have also seen strong demand from CLO equity buyers considering the potentially higher yields on offer relative to other fixed income asset classes.
This strong demand is unsurprising, for a couple of reasons. For one, CLOs have arguably become more mainstream in recent years, leading to an expanded buyer base. As evidence of this, the global CLO market hit the $1 trillion mark last year, and we expect it could expand to $1.2 trillion by the end of 2022. In today's low-yield environment, investors have also been more willing to consider less-liquid investments, like CLOs. In addition, investors who traditionally have targeted only the top of the capital structure (AAA tranches) are increasingly considering and growing more comfortable with allocations to lower-rated tranches as the search for yield continues and the asset class matures.
The floating-rate coupons offered by CLOs add to their appeal—and may become even more important in 2022, with the possibility of U.S. interest rate hikes. Finally, many investors have taken notice of how well the CLO market has performed during periods of volatility, due largely to CLOs' robust structures and strong credit enhancements, with the pandemic being the most recent example.
Where We're Finding Value
Overall, we believe a compelling case can be made for CLOs. Looking across the capital structure, we continue to see value in BB CLO tranches. There is still significant manager tiering between deals that have the same structures and very similar risk dynamics, which has resulted in opportunities to add value by investing in managers that may not be as well-received despite their positive performance.
CLO equity is another interesting area, which currently offers opportunities in the context of low to mid double-digit expected returns. Even though CLO equity occupies the first loss position in a CLO's capital structure, there is an argument to be made that it is not the riskiest tranche, as high cash-on-cash quarterly distributions reduce exposure to the back-ended tail risk of portfolios. CLO equity also provides optionality. For instance, if spreads are tighter at the end of the typical two-year non-call period, buyers have the option to refinance their liability costs. Alternatively, if spreads are wider, equity holders benefit from having the tight cost of financing, on a term basis, locked up for the life of the deal, and can take advantage of purchasing loans at wider spreads and lower prices.
Looking Ahead
For CLOs in the near term, the transition from LIBOR to SOFR is top of mind. Even though there has been some uncertainty, as mentioned, we expect market participants to grow increasingly accustomed to SOFR as more transactions are structured using the new reference rate. There are plenty of headline risks to underlying loans as well, from COVID and the potential for new variants, to inflation and Fed rate hikes, to volatility out of China. That being said, we believe defaults will remain relatively benign, even if they do pick up slightly from where they were in 2021. If we do see defaults, we would expect them to be more idiosyncratic than industry-wide, and fairly contained within the CLO structures.
Against this backdrop, we think CLOs still look attractive, both on a standalone basis and as part of a broader, multi credit fixed income mandate—particularly given their floating rate coupons and potential for incremental yield. As always, however, careful and disciplined credit and manager selection remains critically important.
1. Source: J.P. Morgan CLOIE Index. As of December 31, 2021.
2. Source: J.P. Morgan CLO Research. As of December 31, 2021.